Thousands of tiny fish released into a lake in northeastern China were recaptured just moments later as locals scooped them up, presumably to make a free lunch.
The incident, which happened on Sunday on the shores of Dingxiang Lake in Shenyang, Liaoning province, was caught on film and published on Pearvideo.com.
It is not known who released the fish, but the footage shows a group of people tipping thousands of fry into the lake from about 20 yellow plastic containers.
Unfortunately for the fish, their freedom was short lived as just metres away, a second group of people used nets to gather them back up again.
In the video, a woman from the first group reproached a man from the second.
"You shouldn't catch these released fish. Please quickly put them back into the water. We only just released them," she said.
But her words fell on deaf ears and the collectors continued to scoop up the fry.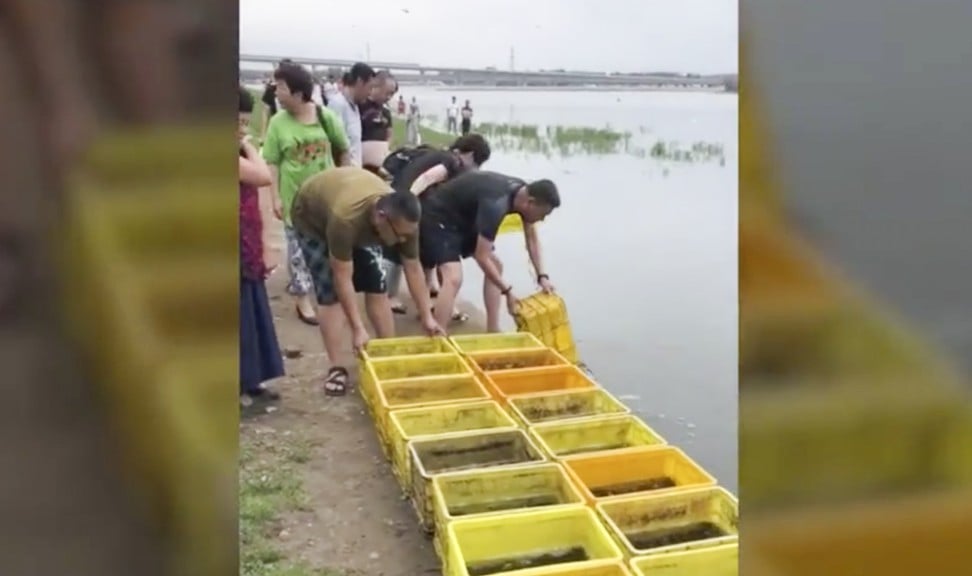 Another woman is heard saying that all the fish probably ended up back in captivity.
"They probably caught [them] all. Many of the fish were very small, like fry, there must have been 10,000 of them."
Why Buddhist ritual of 'saving lives' is a death sentence for animals
The website report did not say what species the fish were or if they were native to the lake. China's Wildlife Protection Law makes it illegal to release certain animal species into the wild.
In the Buddhist religion, it is quite common for people to "save" fish and other animals from food markets and release them into the wild as a way to gain merit.
The report did not say if there was any religious element to the Shenyang incident.