Taiwan's back-to-back loss of diplomatic allies to mainland China last month was another major coup for Beijing and setback for Taipei in their long-running struggle since the early 1990s.
The switch in official recognition by the Solomon Islands and Kiribati was further evidence of Beijing's success in systematically cornering the self-ruled island with its "dollar diplomacy".
Taipei had 28 allies in 1990. That number is now just 15. Many of its remaining friends are small and impoverished nations clustered in the Caribbean or scattered around the South Pacific.
Seven allies have been poached in only the last three years, including Sao Tome and Principe, Panama, Burkina Faso, the Dominican Republic, and El Salvador, since Taiwanese President
Tsai Ing-wen
of the independence leaning Democratic Progressive Party (DPP) came to power in 2016. Just six nations were lured away in the 26 years between 1990 nd 2016.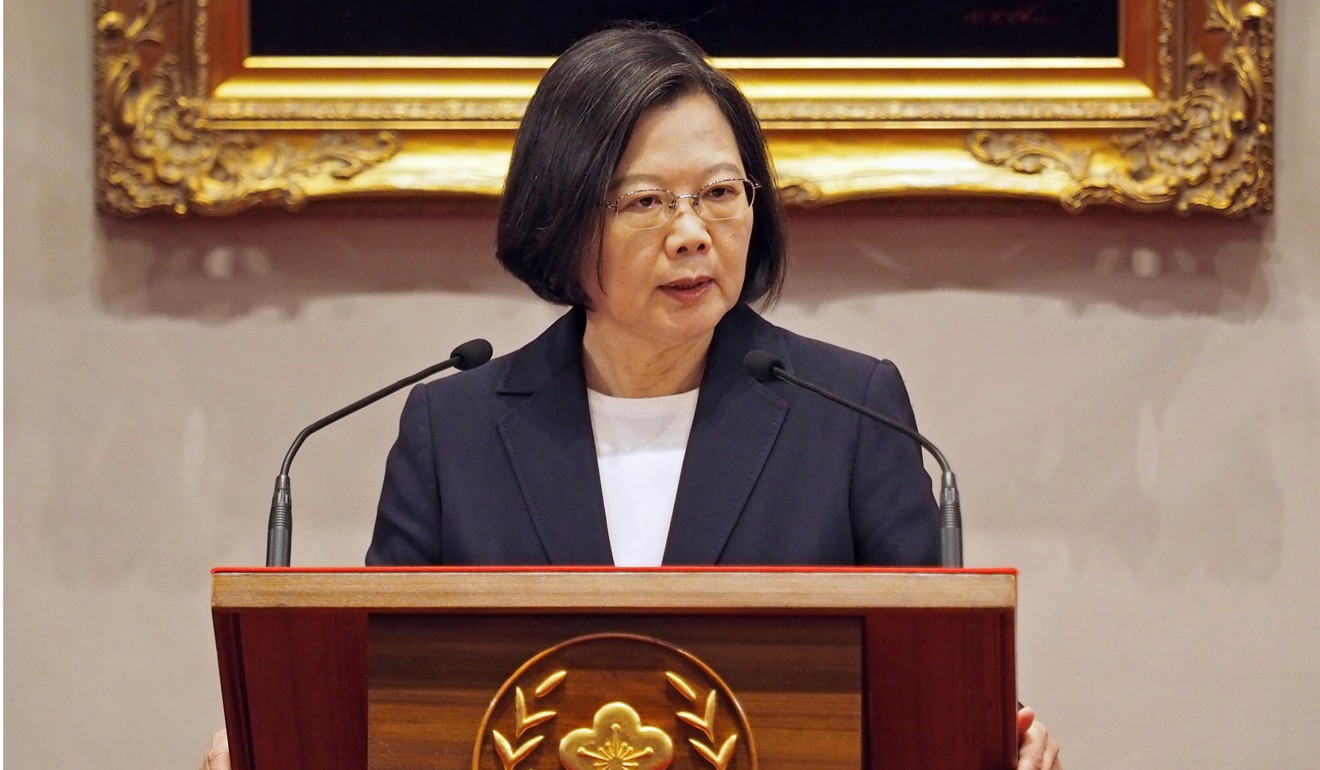 Beijing will for sure achieve more such diplomatic victories, since in the long run the island simply cannot compete in the battle against its giant rival – a nation with 60 times more people and an economy 22 times larger.
The urgency in Beijing's diplomatic manoeuvring reflects increasing impatience over the impasse in cross-strait relations as well as China's worries about rising independence sentiment on the island ahead of crucial presidential and legislative elections in January.
Beijing hopes a string of bad diplomatic news will help bolster its political ally, the opposition Kuomintang, and undermine Tsai's prospects at the polls.
Coupled with efforts to block Taipei's participation in international organisations, and the People's Liberation Army's manoeuvres close to Taiwanese territory, China's poaching of allies aims to deliver a message to the Taiwanese public that they should vote for the opposition or expect dire consequences. Beijing views Taiwan as a renegade province that must one day be united with the mainland, by force if necessary.
However, Beijing's strong-arming actually does little to serve its interests, either internationally or in Taiwan.
Overseas, Beijing's purpose is to diminish Taipei's international presence, but the loss of diplomatic ties with a few small and poor nations has had little real impact on the island's status. The global isolation Beijing seeks to impose is unlikely to be reflected in Taiwan's reality on the world stage. The island is the world's 21st largest economy and 20th most affluent by per capita income, when measured in terms of GDP purchasing power parity, and is also widely seen as one of the most vibrant and free democracies in Asia.
Taipei's foreign policy has long focused on the "informal" rather than "formal" in forging diplomatic ties. Though it has no official relations with major powers and does not enjoy membership of principal international organisations, Taiwan maintains robust unofficial ties with all major developed economies. The Republic of China has offices in virtually every major city around the world including Washington, Tokyo, London, Paris and Brussels. These function as embassies in all but name and have helped Taipei forge much closer friendships and greater respect than Beijing among like-minded democracies. China's isolation efforts therefore only help the island garner sympathy and support.
In reaction to Beijing's latest diplomatic victory, the United States Senate Committee on Foreign Relations voted unanimously last week to pass the Taiwan Allies International Protection and Enhancement Initiative (Taipei) Act, demanding "a whole-of-government approach to ramp up support for Taiwan".
Within the island, Beijing's assertiveness may fail to influence the coming elections as it hopes. Its hostile approach has helped plunge cross-strait ties to their lowest ebb since the early 1990s, which will only alienate the Taiwanese further and encourage them to pressure their government to reject any pro-Beijing policies.
Taiwan's Sunflower Student Movement of 2014 and this year's four months of unrest in Hong Kong were both reactions to Beijing's assertive rhetoric and perceived suppression.
The Communist Party's policy has already weakened the influence in Taiwan of the Kuomintang and its pan-blue coalition. The political gap between Beijing and the camp has apparently widened, with the Kuomintang forced to shift further away from Beijing in an effort to remain politically relevant and competitive.
It has forced presidential candidate and former populist mayor of Kaohsiung Han Kuo-yu to declare that the "one country, two systems" formula under which Hong Kong was reunited with China in 1997 would only be implemented in Taiwan "over my dead body". Surveys have shown the Taiwanese overwhelmingly oppose the idea for their island.
Taiwan's last four Pacific allies pledge their loyalty after two nations switched to Beijing
But China will not stop chipping away at Taiwan's alliances until the day Taipei is left without a single official ally.
"As long as the DPP is in power, sooner or later, Taiwan will have zero diplomatic allies," Communist Party mouthpiece People's Daily recently declared.
But this scenario could backfire on Beijing. It would effectively render the Republic of China dead and would therefore force any political party in power in Taiwan to come up with a new path forward. It could usher in a new era and the birth of a new republic of a completely fresh identity – and one with no qualms about seeking statehood. Taipei would then face the spectre of military action from Beijing under a 2005 law passed on the mainland which authorises the use of force in the event the island attempts to secede.
Should war break out, it would be a catastrophe for both sides of the strait, and would suffocate any hopes for a peaceful future.
Cary Huang is a veteran China affairs columnist, having written on the topic since the early 1990s