Chinese state media continued a show of support for Hong Kong's controversial ban on masks at demonstrations on Sunday after it prompted a rampage by anti-government protesters that brought the city to a standstill.
Xiakedao, a social media account run by overseas edition staff from People's Daily, said in a commentary that the new anti-mask law, which took effect from midnight on Friday, was "legal and reasonable".
It also said the law could help Hong Kong police to gather evidence, deter people from carrying out unlawful actions and prosecute criminals.
"Protesters openly humiliated [China] and burned [Chinese] flags during National Day, which should be a day for national celebration of the 70th anniversary of the country's founding," the commentary said. "[The protests] are severely damaging Hong Kong's law and order and are a provocation [challenging] the 'one country, two systems' framework.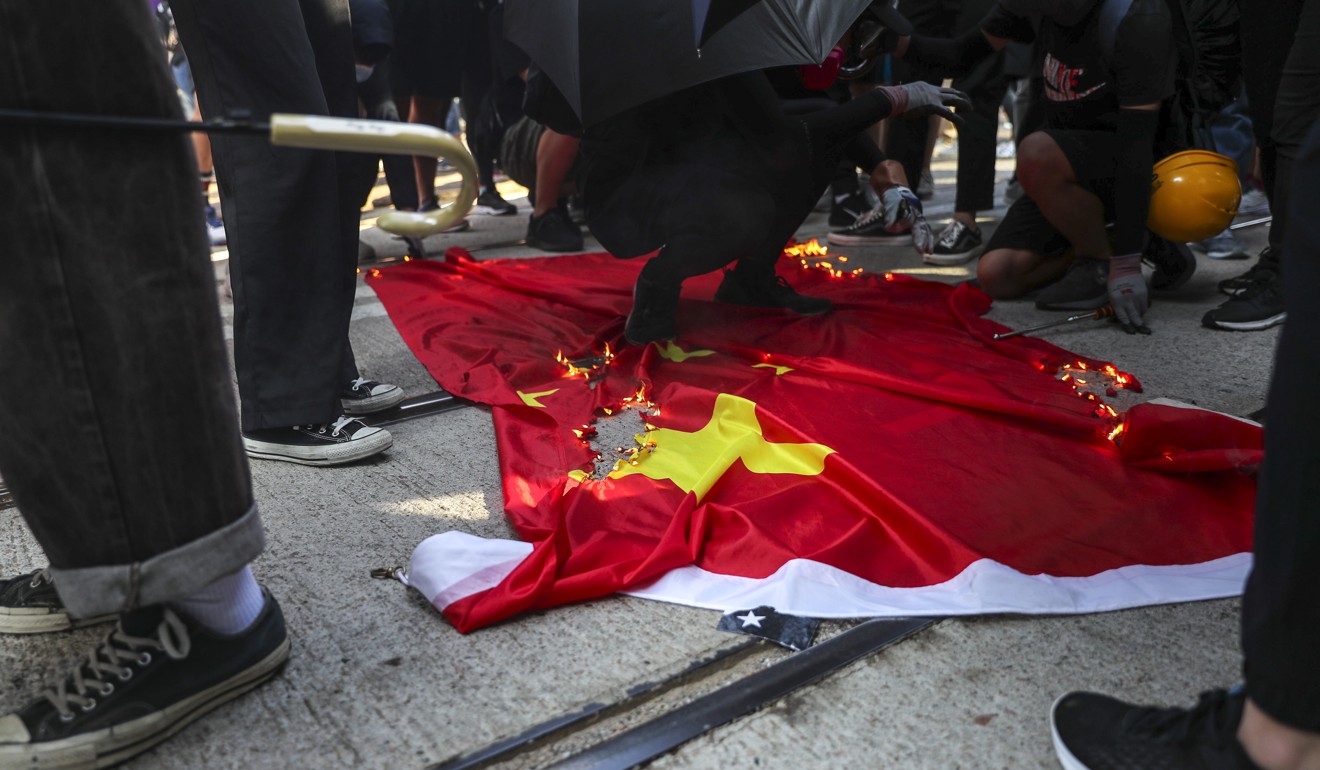 "You don't need to hide yourself if your appeal is legal and peaceful – only criminals fear they'll be discovered," it added. "While the anti-mask law won't help to catch all the thugs soon, it will deliver a heavy blow to the protesters."
The commentary also quoted mainland and Hong Kong academics and legal professionals as saying that the law had a solid legal grounding and could help cool political tensions in the city.
"The radicals cannot be concern-free when they are not allowed to wear masks," Tian Feilong, executive director of Beihang University's One Country Two Systems Legal Studies Centre in Beijing, was quoted as saying.
Hong Kong has seen four months of unrest, sparked by a now-abandoned extradition bill that would have allowed criminal suspects to be sent to mainland China for trial. The anti-government protests, which have broadened into a pro-democracy movement, have turned increasingly violent.
The Hong Kong government on Friday invoked emergency powers to ban people from concealing their faces, whether with a mask or paint, while attending any public gathering of more than 50 people, a protest of more than 30 people or any unauthorised assembly. Offenders face a maximum fine of HK$25,000 (US$3,188) and up to one year in jail.
The ban has drawn criticism and anger from demonstrators and pro-democracy lawmakers and triggered widespread destruction and violence in the city. Protesters vandalised and burned shops, bank outlets and metro stations, forced the shutdown of the entire railway network and blocked roads, wearing masks in open defiance of the new law.
State broadcaster CCTV's prime-time evening news programme Xinwen Lianbo also weighed in on the mask ban over the weekend, airing a series of interviews with legal experts voicing support for the new law, including former Hong Kong justice secretary Elsie Leung Oi-sie. One of its anchors, Ouyang Xiadan, said in a social media post that the protesters should not only get rid of their masks but also the prejudices and misunderstandings that were clouding their perceptions.
In a second article on Sunday, Xiakedao quoted prominent academic Zhang Weiwei, from Fudan University in Shanghai, as saying Hong Kong's protests were showing mainland Chinese the hypocrisy of the West.
"When talking about freedom of the press, why are reporters only focusing on the police and not the rioters?" he said. "This is selective blindness … When discussing freedom of speech, why are social media [outlets] like Facebook repeatedly shutting down accounts with the truth that the world needs to know?"
He also blamed the United States and the Hong Kong government for the protests.
"The US wants to wage a colour revolution in Hong Kong that spills over to the Chinese mainland. This kind of thinking is silly … and the Hong Kong government is so weak that it has failed to address housing and employment problems," Zhang said.