China Everbright Ltd., the state-backed manager of about HK$139 billion ($18 billion) in assets, said the company is preparing to sell some holdings on concern that valuations worldwide have peaked.
There are 20 to 30 companies in Everbright's global portfolio that are ripe for exit after they went through initial public offerings, Chief Executive Officer Chen Shuang said in an interview in Hangzhou on Tuesday. Though he didn't specify which stocks Everbright would sell out of, Chen said the company is planning to make its exits "as soon as possible."
"We will be actively disposing of assets and be prudent about new investments," Chen said. "Global markets including the U.S. have peaked. We should be prepared for the next round of financial crises and turmoils."
The Hong Kong-listed firm, which is part of China Everbright Group, counts Netflix-like streamer iQiyi Inc. and electric-car maker NIO Inc., both of which went public in the U.S. this year, within its portfolio. Shares of iQiyi fell as much as 12 percent on Tuesday while NIO was down as much as 8.3 percent. The stocks ended the day with declines of 2.9 percent and 3.1 percent, respectively.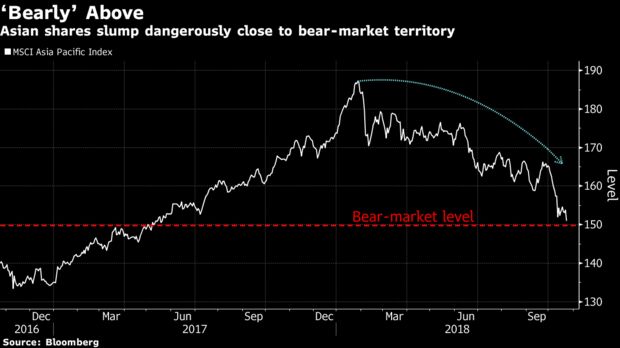 Everbright, which has invested in more than 300 companies worldwide, joins the wave of pessimism rippling through markets recently. The MSCI Asia Pacific Index is approaching a bear market amid geopolitical tensions, receding optimism over U.S. stocks, as well as a possible slowdown in earnings and economic growth.
In the first half the firm fully or partially sold its stake in Macquarie Everbright China Infrastructure Fund, China TCM and Betta Pharmaceuticals, while investments iQiyi, Eloxx Pharmaceuticals and Uxin went public on the Nasdaq Stock Market, "ramping up CEL reserve of projects available for divestment," according to its semi-annual report.
Chen also said Everbright raised more funds overseas after it became "very difficult" to do so in China. New rules on the asset management industry slowed the increase of fundraising for private equity firms to 8 percent this year from an average annual rate of 20 percent in the past five years, he said.
"Most of our new funds this year were raised from overseas," he said.
Chen's comments come in spite of various heads of Chinese financial regulators and Vice Premier Liu He making statements last week pledging increased support for private companies and the markets.
It worked briefly. China saw its biggest stock rally in three years on Monday before surrendering much of those gains the following day.
Chen said China's economic growth should rest more on fundamentals than policy stimulus. "Long-term growth cannot rely on policy drive," he said.