Former U.S. Treasury Secretary Hank Paulson warned of an "Economic Iron Curtain" dividing the world if the U.S. and China fail to resolve strategic differences.
Paulson explained his reasons for the current conflict and shared a path forward to avoid a "long winter" between the world's biggest economies in the text of a speech delivered at Bloomberg's New Economy Forum in Singapore on Wednesday. The New Economy Forum is being organized by Bloomberg Media Group, a division of Bloomberg LP, the parent company of Bloomberg News.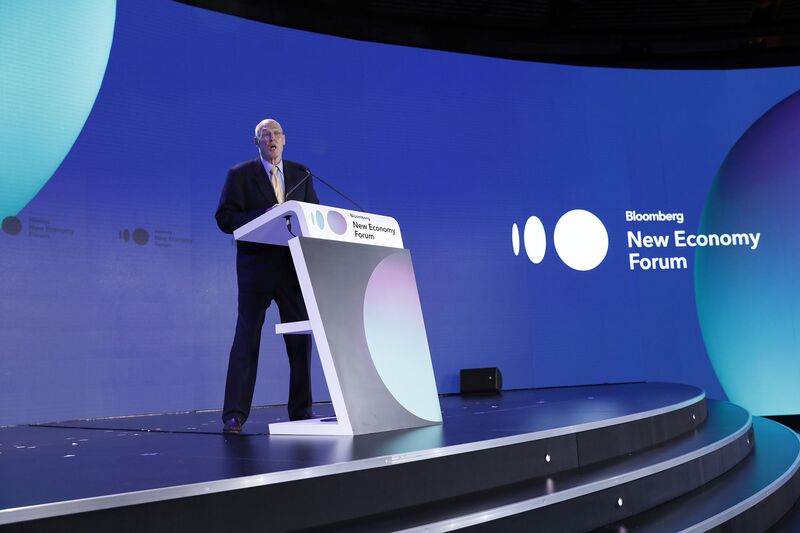 How Did We Get Here?
Paulson argued the U.S. and China have diverging interests in critical areas that go beyond trade. Even if the two sides reach a deal on trade, he said, the underlying tensions will still persist due to deeper issues.
A consensus has emerged in the U.S. that engagement has failed to alter Chinese behavior. Some 17 years after China entered the WTO, it still has not opened its economy to foreign competition in many areas — prompting even the American business community in China to call for confrontation.
Paulson argued that China's failure to open up is more to blame than confrontational attitudes in the U.S., which predated Trump. Major problems include:

The Communist Party commands all
Private business must support the strategic goals of the state
Foreign technology is "being reworked so that foreign technologies become Chinese technologies through an indigenization process" that many CEOs find "grossly unfair."

China's "Digital Silk Road" — an initiative to export Beijing's standards for cyber-governance — are further driving confrontation with the U.S.
What are the Risks?
More people in both the U.S. and China are advocating "policies that could forcibly de-integrate the two countries."
Some in U.S. are advocating a "Cold War-style technology denial regime" as China looks to set its own standards and pursue self-reliance.
That raises "the prospect of an Economic Iron Curtain—one that throws up new walls on each side and unmakes the global economy, as we have known it."
In trying to isolate China, the U.S. risks isolating itself. Companies may look to base themselves in countries that are less hostile to China, instead of the U.S.
U.S. actions against China risk setting up a new round of conflict with partners the U.S. needs to alter Chinese behavior.
What is the Way Forward?
China must allow foreign firms to compete on a level playing field, the market should drive key decisions, and Beijing should do more to protect intellectual property. It should also:

Do no harm — for instance, come up with rules to prevent potential collisions at sea with American warships.
Work constructively with U.S. allies and partners.
Be bold — open the economy, have confidence Chinese companies can compete.
End policies that directly or indirectly compel technology transfer
Work with the U.S. on top strategic priorities, including North Korea

The U.S. should:

Dial down the rhetoric — "China does not pose an existential threat to American civilization."
Enlist partners — Fix the WTO and reconsider joining the Trans-Pacific Partnership to shape the environment in which Beijing operates.
Negotiate with China with clear objectives.
Invest in America — the economy, military, education, science, engineering and alliances.