Authorities take steps to make it safer for pedestrians to cross the road, with surveillance cameras installed to catch motorists who fail to observe the rules
Crossing the road in China, the world's biggest car market, can take some courage – even when the broad white stripes of a zebra crossing should offer some protection.
As they are in other countries, drivers in China are supposed to slow down as they approach zebra crossings and stop when people wish to cross. But in reality this does not always happen, and since the traffic safety law was introduced in 2003, these rules have rarely been enforced.
This habitual flouting of the traffic law has for years meant that many pedestrians previously did not even expect drivers to observe a zebra crossing by slowing down and stopping.
But with more middle-class Chinese travelling to other countries where drivers do generally give way to pedestrians when they are supposed to, awareness of the zebra crossing is growing.
Now, traffic police across the country are also taking steps to make it safer to cross the road. In the past few months, the authorities have been campaigning to promote "zebra crossing courtesy" and surveillance cameras have been installed near pedestrian crossings without traffic lights to catch motorists who fail to observe the rules.
Thousands of motorists sent back to the classroom after traffic blitz in eastern China
Those who do not slow down as they approach a zebra crossing or stop for a pedestrian will be fined 100 yuan (US$15) and will lose three points from their driving licence, as stipulated by the law.
Although the fine is paltry, the three points could be more of a deterrent. A Chinese driving licence has 12 points, and if all of them are lost in a year the motorist must take a road safety class and sit a test to have the licence reinstated.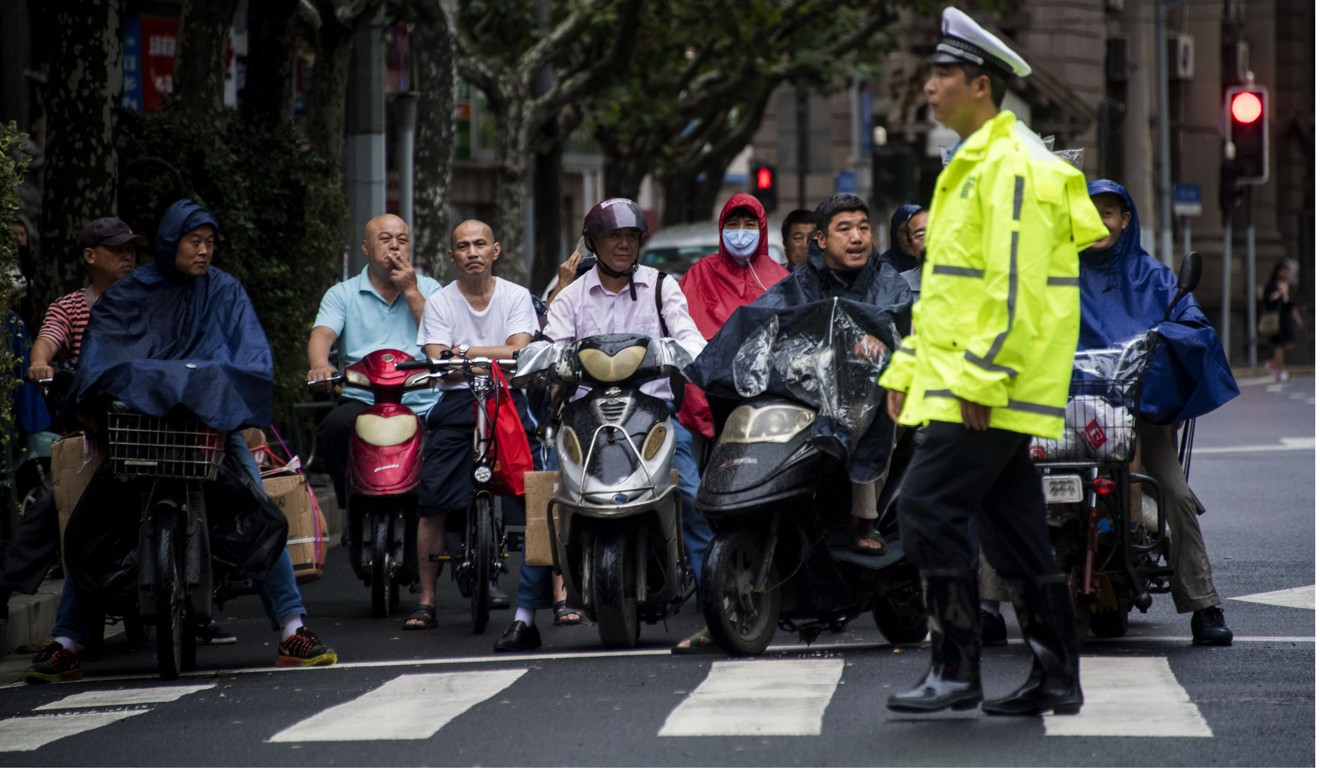 The campaign has been partly prompted by a high number of accidents around zebra crossings recently, according to a traffic police officer in eastern Jiangsu province who declined to be named.
Ministry of Transport figures show that in the past three years, some 14,000 accidents were reported at zebra crossings around China – with 3,898 people killed as a result, Xinhua reported.
Ninety per cent of those accidents were caused by drivers failing to give way to pedestrians, according to the ministry.
The officer said growing public awareness of zebra crossing rules was another reason traffic authorities were cracking down on enforcement.
"More and more people now know that drivers are obliged to give way to pedestrians," he said. "It's just like changing mindsets about wearing seat belts. Years ago, people only fastened their seat belts when there was a police check. Now, many people are in the habit of putting on their seat belt as they're aware that it's for their own safety."
Chinese man repaints road markings to make his commute quicker
But on social media, motorists have reacted angrily to the campaign – some of them seemingly unaware that traffic police are enforcing an existing law – complaining that it does not suit the roads and culture in China.
"I understand that drivers showing courtesy to pedestrians is a civilised way to behave, but it can only be applied in Western countries," one motorist wrote on social media platform QQ. "In China, people are not civilised. Some pedestrians deliberately walk slowly or play with their phones while they're on a zebra crossing."
Another feared that giving way to pedestrians at crossings would only add to traffic snarls. "This rule will make the road congestion even worse," the driver said.
In northwest Shaanxi province, one motorist even said he would not drive to an area near a railway station because of the enforcement blitz because he once stopped at a zebra crossing there and had to wait for more than 10 minutes for pedestrians to cross. "I'll try to avoid going there in future," he said in a comment posted on local news portal Hsw.cn.
Last month in the coastal city of Haiyang, in eastern Shandong, a pedestrian was detained by police for 10 days for "picking a quarrel" after he held up traffic by walking back and forth on a zebra crossing three times while under the influence of alcohol, the Qilu Evening News reported.
Parked car blocking the way? Chinese firm hires crane to move it … and leave it on the roof
Pedestrians have also shared their stories online, with many expressing frustration about trying to get across the road at a zebra crossing.
Seven drivers in Panan county, Zhejiang, were fined and lost points from their licences last month after they sped through a zebra crossing while an elderly woman was stuck in the middle of the road trying to get to the other side. She told Shanghai news website Thepaper.cn that she had waved at the motorists to stop but they ignored her.
Zhang Zhuting, a law professor at the Transport Management Institute under the transport ministry, said the issue boiled down to who has right of way, adding that most pedestrians did the right thing.
"One way to solve this conflict is to build a subway or overpass. But if that isn't suitable, zebra crossings are needed to give pedestrians a place to safely cross the road," Zhang, who was involved in drafting the traffic safety law, told the South China Morning Post.
"From a safety perspective, drivers should give way to pedestrians," he said. "In terms of traffic jams, I would say that when it's a choice between safety and traffic flow, safety should always come first."